Custom Pet Portraits Australia: What You Need To Know
Paintings of Your Pet as You Remember Them
Are you looking for a beautiful custom pet paintings from an Australian artist? Do you want to treasure your beloved pet forever? Or give an amazing gift to someone special? I paint unique, original oil portraits of your pet. My paintings are created from a high-resolution photograph of your pet using the finest quality oil colours on high-quality canvas. You'll love our custom pet portraits Australia.
Commissioning a custom pet portrait of your favourite dog, cat, horse (or snake!) is a great way to keep them in your heart forever. A high-quality painting serves as a daily reminder of what your precious pet meant to you.
Pet portrait paintings are hugely popular in Australia, and here are a couple of answers to the most-asked questions from our customers.
How much does a custom pet portrait cost?
When you commission a pet portrait, you're engaging an artist to create a unique representation of your beloved pet.  The painting's value lies in its individuality. Our painting commissions start from as little as $180.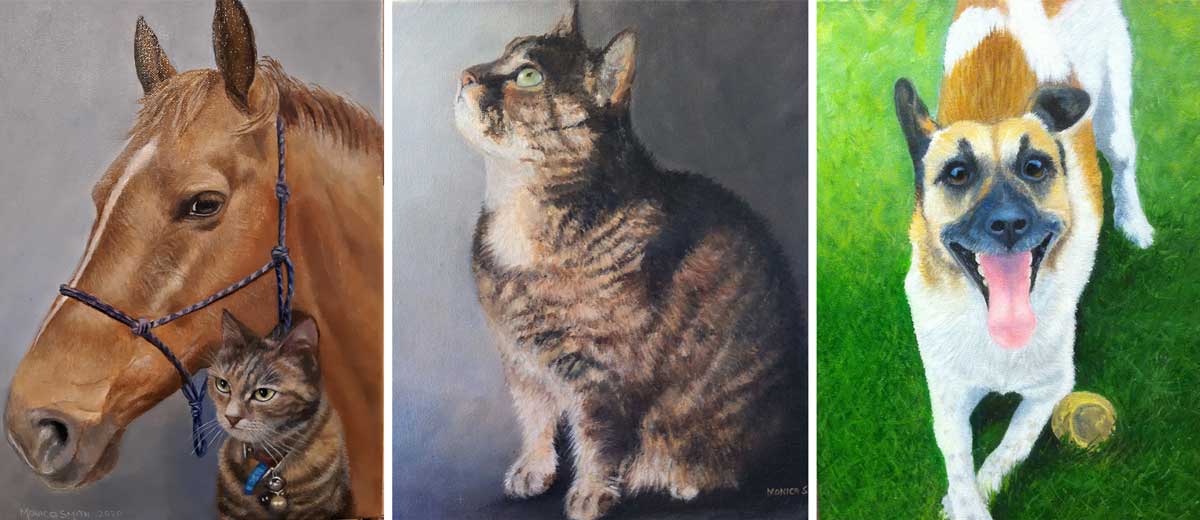 How Long Does It Take To Paint A Custom Pet Portrait?
Our paintings are made with love.  The process takes between 2 to 4 weeks, depending on the size of the canvas. Some clients prefer large scale paintings when, for example, they would like the picture to fit on a large living room wall. In this situation, there is a lot more work involved and the paintings can take up to 6 weeks.
Animal Portraits Make Great Gifts
Do you have hard-to-buy-for loved ones?  Most people do. Commissioning a pet portrait for friends or family is a foolproof Christmas or birthday present idea.
If you're interested in learning more about the painting process, please feel free to contact Monica by clicking on the button below.